COMMERCIAL
ROOFING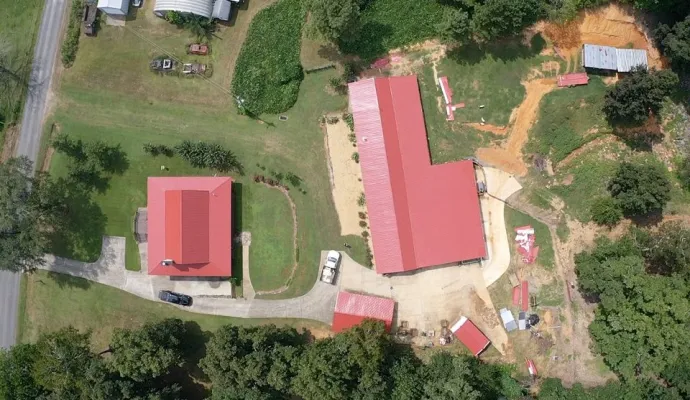 Cardinal Roofing has been a trusted name for commercial roofing since our founding. We roof commercial buildings, apartment complexes, churches and more. We repair, install and replace flat roofs, TPO roofs, roof coating, EPDM roofs, torch down roofs and modified bitumen roofs. Cardinal Roofing sets its standards high, ensuring each customer receives high-quality roofing whether installing, inspecting, repairing, or otherwise providing commercial roofing services.
As roofing experts, we're confident in our knowledge of commercial roofing systems and the work that we perform, so it's easy to provide warranties and guarantees. We take pride in our work and ensure the work we complete is perfect for your commercial property near Birmingham, AL.
LET'S
TALK
Do you have commercial roofing needs? We have the team to ensure those needs are met.
COMMERCIAL
FLAT ROOFS
Flat roofs are becoming a popular choice for homeowners and developers building new homes because of their unique look and more modern aesthetics. Flat roofs, as the name suggests, is laid horizontally on the top of a building, but may have a slight slope. Asphalt and torch on flat roofs are usually the most common types of materials used in flat roofing projects and there are several pros and cons to take into consideration before you make the decision that this is the right type of roof for you.
COMMERCIAL ROOFING
SERVICES
TPO ROOFS
Thermoplastic Polyolefin, or TPO, is commonly used in commercial roofing settings. The material is durable, lightweight, and energy-efficient, so a reduction in your cooling costs is likely. TPO is a polymer blend made with various rubbers, reinforcing fillers, polypropylene, and polyethylene. These polymers are infused with UV absorbing agents and flame retardants, making TPO fire and wind resistant.
TPO is a cooling roofing material that is Energy-star rated. Many people refer to TPO roofing as green roofing. So, another advantage of using this roofing material is that it is good for the environment. It is important that we all do our part to keep the world a great place. Why not start with the roof that you use on your business? There's tax credits, local credits, and energy credits in store for those who select the TPO flat roof system.
Firestone, Genflex, and Carlisle are among the TOP manufacturers offering quality roofing products. Cardinal Roofing works with the top TPO manufactures, giving you choices and assurance in quality products.
COMMERCIAL ROOFING COATING
Roof coating is used over an existing flat roof to extend its durability and lifetime. With the coating applied, the roof becomes a highly reflective surface that offers a range of benefits small and large. Many types of roof coatings are available, each consisting of liquefied polymers.

Benefits you'll enjoy when using roof coating with your new flat roof installation include:
✔ Preserve your roof, protecting it from excessive heat, cracks, splits, and more
✔ Extend the lifetime of your roof
✔ Further reduce cooling/energy costs
✔ Several types of flat roof coating available
These exciting benefits are offered when business owners opt to add roof coating to their roof. But, there's far more benefits of roof coating than what's listed here. It is safe to say that roof coating is worth the time, money, and effort.
Roof coating is inexpensive and while it is ideal to install when installing your new flat roof, Cardinal Roofing pros can come back to the scene and add the coating at a later time as well. Roof coating provides business owners added protection to their investment as well as peace of mind. Knowing that a high-quality roof has been installed by Cardinal Roofing, with roof coating, is all the peace of mind you need.
MODIFIED BITUMEN
Modified Bitumen roofing is a single-ply rolled roofing material. It features a mineral-based wear surface that protects it from heat and moisture. The modified bitumen roof is installed by placing the adhesive material down onto the roof. It is easy-to install and while some homeowners and business owners choose to DIY, it is better to hire the professionals at Cardinal Roofing to handle the job. Our roofing installation experts ensure that your roof is installed the right way, the first time around, preventing headache and hassle in the future while ensuring longevity of your roof. Additionally, our roofing experts have the tools and safety equipment needed to ensure a smooth installation from start to finish. You'll be satisfied with the reduced energy costs, low maintenance, and great appeal of the modified bitumen roofing system.

EPDM ROOFING
Known for its superior strength and durability, EPDM has been used on commercial businesses and homes for more than four decades. Not only is it one of the oldest types of roofing materials available, it's also one of the most trusted. EPDM, or ethylene propylene diene monomer, is oftentimes used on low-slope buildings throughout Birmingham, but it's popularity extends throughout the country.
EPDM roofing is resilient, durable, and affordable, helping reduce energy costs and carbon footprint. Both a white reflective and black EPDM roofing colors are available. The flexible material is great for cold weather conditions and is resistant to hail damage, UV rays, and thermal shock.
It is up to you to maintain your EPDM roof after Cardinal Roofing installs the piece. Caring for the roof isn't difficult, luckily, especially with the help of our roofing experts. The reward of proper care and maintenance is a roof that provides a lifetime of around 30 years.
TORCH DOWN
Torch down roofing is similar to gravel and tar roofs, consisting of fiberglass and polyester layers with added bitumen added to the traditional tar and gravel layer system. The extra sheets are placed in overlap areas during installation using a flame torch that melts the asphalt together with the seams. Some people refer to torch down roofing as modified bitumen, though there are differences in the two. Torch down roofing is strong and resistant to rain and snow. The life expectancy of 15-years is great considering the low initial purchase costs. The attractiveness of this roof material is a plus. The tar roof doesn't offer the same type of beauty.